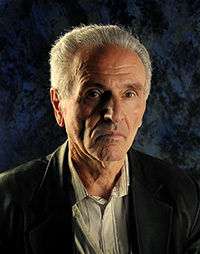 Grigor Asoyan was born in 1934 in Erevan city.
He received his secondary artistic education in Erevan art school named after F.Terlemezian (1948 -1953 ). His higher education he received in Leningrad, in Higher Artistic – Industrial school named after V.I.Mukhina (now Academy of decorative-Applied Art).
From 1970 he is a member of Armenian Artists Union. He is a member of International Artistic Fund from 1975.
From 1975 to 1986 the chief artist of Izokombinat (Fine Arts Works) under Artistic Fund of Armenia.
From 1986 to 1995 the chief artist of Armenian Artists Union of Artistic Fund. A frequent participant of republic and foreign exhibitions of paintings (Russia, Bulgaria, Yugoslavia, Algiers etc.). The author of artistic-decorative designs of numerous objects all over the Soviet Union.
From 1970 to 1988 artistic arrangement of nursery schools , culture houses in all republics of Middle Asia.
In 1975 artistic arrangement of nursery schools and '' Cosmos'' restaurant in Volgodansk (mosaics, stained, glass, works of arts).
In 1976 artistic arrangement of Culture house of Aluminum Plant in Irkutsk city.
From 1978 to 1980 artistic arrangement of the plant ''Krasniy Katelshchick'' (Red boiler Webs) in Taganrog (mosaics, painting, ceramic articles, design elaboration of interiors).
From 1985 to 1989 design elaboration and artistic arrangement of Arminian pavilions at international exhibitions (towns- Plovdiv, Zagreb, Algiers, etc.)
From 1990 to 1991 artistic arrangement of the culture house in Yakutsk city (Yurengoy).
From 1990 to 1991 artistic arrangement of nursery school and cultural house of Kurey HPP ( Egarka town).
Grigor Asoyan's works of art are in private collections in Armenia as well as abroad (Russia, Ukraine, USA, Canada, Greece, etc.) Modernity and its complicated problems- this are subjects in what the imagination of the artist is engaged more. In his studio there are many started canvases, new artistic conceptions which come to confirm that the artist has his own graphic phrase and individual manner.